Have you ever tried something and decided you're never turning back? Well, I know I did. When I was 13 I started realising one of my friends had bigger and brighter eyes after our holidays. I got really curious and eventually, through a few friends I figured out how she worked that magic haha.
So apparently she was wearing coloured lenses and my friends even brought me to check them out after school. I personally don't have a degree but after trying on those lenses I knew I would never live without them again.
I'm sure many of you wear contact lenses too. Personally, I find wearing lenses fun and versatile because I get to change the colour of my eyes as and when I want, also if you hardly wear any makeup, coloured lenses could help enhance your appearance without it and help build your confidence. But it's always so uncomfortable to wear my lenses throughout the day. My eyes usually get dry and irritated so I'd usually have to take the conscientious effort to remind myself to bring eye drops everywhere I go because of that. It's so much of a hassle and the eye drops sometimes ruin my mascara.
After facing this problem for years I finally went online the other day to research about it. I realised that the reason behind my dry eyes is because of the water content in my lenses and hygiene. The safety of your eyes is definitely not something you want to mess with. Contact lenses are relatively safe if you choose the right brand (especially those that are certified) and know how to cleanse them thoroughly after every usage.
Now that I've identified my problem, I looked for a solution and I found FreshKon® Colors Fusion 1-DAY lenses. I'm sure FreshKon is a brand many people think of when buying contact lenses and I was really pleased to find out they just launched a new line of 1 Day lenses. There were 3 colours for me to choose from and they were all so pretty but I decided to go for brilliant brown and blushing violet.
The blushing violet is a new vibrant shade. Its gorgeous, vivid hue illuminates and with a pair of alluring eyes, I feel so confident when having eye contact with others. I've been wearing the non-enlarging ones for about a year now, was switching between 14.2 and 14.5 MM in diameter previously. I try to keep my eyes looking natural with colours like black or brown most of the time. However, no harm stepping out of my comfort zone for something new right? Just in case you don't already know, the black rim around the contacts helps to create an illusion of bigger looking eyes. Here are some photos of how they look!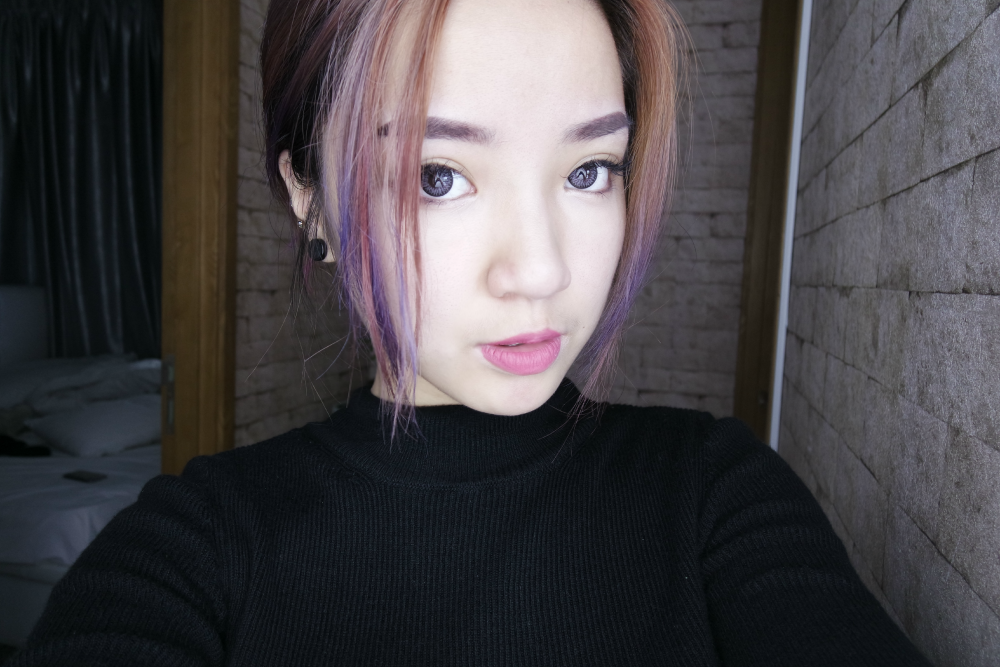 So now, colours aside why else did I change from my usual monthly lenses to the FreshKon® Colors Fusion 1-DAY lenses?
FreshKon® Colors Fusion 1-DAY lenses offer superior comfort with a hydrophilic (water-loving) surface, 58 percent water content and hyaluronic acid for optimum ocular lubrication and hydration for enhanced comfort and clarity. With the added UV blocking properties, your eyes will be protected from 80% of UVA and 90% of UVB rays. (As you can see, I did my research.)
That was what I was looking for all along. A pair of lenses that would not feel dry after wearing them for a few hours.
Another pro about wearing 1 day lenses is that you can change colours everyday! No more being stuck to one colour a month. It is also much more hygienic to change your lenses everyday.
After considering all these points, most people would be worried about the prices of 1 day lenses. So was I initially but I was really surprised to find out that the FreshKon® Colors Fusion 1-DAY lenses were really affordable.
FreshKon® Colors Fusion 1-DAY lenses are available at participating optical outlets for $56 for a box of 30 pcs (15 pairs) AND $22 for a box of 10 pcs (5 pairs).
They are having a promo now though which makes it even more tempting!
2 Boxes of 10 pcs @ $38.90
4 Boxes of 10 pcs @ $74.80
+ Free Tin Box and FreshKon Bracelet
2 Boxes of 30 pcs @ $99
+ Free Tin Box and FreshKon Bracelet
4 Boxes of 30 pcs @ $190
+ Free Tin Box and FreshKon Bracelet
I got mine from one of the Koolook branches at JEM where they provided me a short and thorough eye checkup. For first timers, I'd suggest you guys head down to one of the Koolook branches to get your eye checkup before purchasing lenses. The staff that served me was very welcoming and professional. I've perfect eyesight, so in case you were wondering why I'm wearing lenses, it's just for the sake of beauty Hahaha.
KOOLOOK BRANCHES
Koolook Pte Ltd (Lucky Plaza #77)
304 Orchard Road Lucky Plaza #01-77
Koolook Pte Ltd (Lucky Plaza #85)
304 Orchard Road Lucky Plaza #02-85
Koolook Pte Ltd (Junction 8)
9 Bishan Place #01-16 Junction 8 Shopping Centre
Koolook Pte Ltd (Suntec)
3 Temasek Boulevard #02-705, Suntec City Mall, Tower 3
Koolook Pte Ltd (Tiong Bahru)
302 Tiong Bahru Road #B1-20/21 Tiong Bahru Plaza
Koolook Pte Ltd (Westgate)
3 Gateway Drive #03-41 Westgate Singapore 608532
To find out more about the FreshKon® Colors Fusion 1-DAY lenses you can visit the websites stated below.
http://www.freshkon.com/country/singapore/colors-fusion.htm
Reading reviews are one way to tell whether a product is good or not, but the best way to find out is to just give it a go! So don't wait any longer, go give them a try, you have to at least once in your life :p Do let me know how you like them and which colours are your favorite by tagging me on Instagram or leaving a comment on this post! Oh, and don't forget to hashtag #freshkonsg :) Good luck!